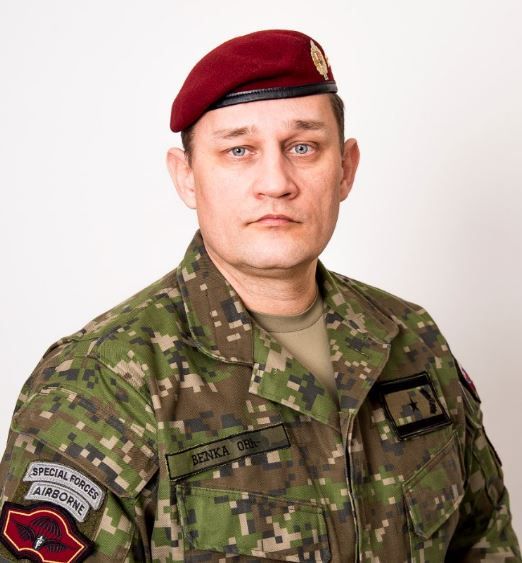 Brigadier General Branislav BENKA
Brigadier General Benka is a native of Trenčín, Slovakia. He was
commissioned in 1993 when he was serving as a conscript. In 1995, he
joined Slovakian SOF unit (5 th SFR) located in Žilina. He is a graduate
of the Slovak Military Academy within the Military Intelligence and
Reconnaissance field of study. He also holds a Bachelor Degree of
Law and he is a graduate from the Defence Language Institute, San
Antonio, Texas where he studiedaEnglish.
Benka's assignments have included a full range of duties in 5 th SFR
starting as a Team Leader continuing as a company CO, then Chief of
the Training Department and finishing as 5 th SFR COS. He was also
assigned as Deputy Director of the Training Centre Lešť for 2 years
and as MA to SVK CHOD for 5 month. Later, he was assigned as Chief Special Operations
Forces Branch at the General Staff Slovak Armed Forces for 18 months. Within the range of his
duties, he served in Operation Iraqi Freedom (12 month) as well as in ISAF SOF (total 6 month).
His NATO staff assignments include duty as Deputy Director of J2 at NSHQ as well as
Executive Officer of TF Europe, CCOMC, SHAPE.
Benka has assumed his current post as SVK SOF Commander since 1 st June 2019.
He is married with two children.
EDUCATION:
2019 - 2020 General Staff Officer Course, Defence University, Brno
2012 - 2015 Faculty of Laws, Danubius Academy
1997 - 2002 Military Academy, Military Intelligence and Reconnaissance
1993 - Reserve Officer School
1988 - 1992 Secondary school of Mechanical Engineering
COURSES:
2015 Strategic Planning course, SHAPE Crisis and Operations Training (SCOT), NATO HQ and
ACO level, SHAPE, Belgium
2015 Logistics Course, Crisis Response Operation Urgent Requirements, SHAPE, Belgium
2015 ACO Security Course, basic administration and physical security within SHAPE, Belgium
2014 NATO Orientation course, Oberammergau, Germany
2011 NATO SOF SIGINT Course, NSHQ, SHAPE, Belgium
2010 Certified mobile system course UFED, NSHQ, SHAPE, Belgium
2010 Technical Exploitation Operations (TEO) Course, NSHQ, SHAPE, Belgium
2009 Combined Joint Force Special Operations Component Command
(CJFSOCC) Course, NSHQ, SHAPE, Belgium
2009 Military paratrooper certification of Belgian Kingdom, Shaffen, Belgium
2008 SOF Intelligence Course NATO SOF 301/NSIC/ NSHQ, SHAPE, Belgium
2008 SOF Intelligence Course NATO SOF 201/NSIC/ NSHQ, SHAPE, Belgium
2008 SOF Intelligence Course NATO SOF 101/NSIC/ NSHQ, SHAPE, Belgium
2004 Staff officer course UK/NLJSOC 3, Slovakia
2004 Military paratrooper certification of USA
2003 - 2004 SOFQOC, Fort Bragg, South Carolina, USA
2003 Language Course, Defence Language Institute Lackland AFB, Texas, USA
2002 English Language course, Slovakia
2001 English Language course, Slovakia
2000 Survival course COMANDOS, Marche Les Dames, Belgium
1997 Military paratrooper certification of French Republic, Pau, France
1995 Military paratrooper certification of Slovak Armed Forces
ASSIGNMENTS:
2019 - Commander Special Operations Forces, Slovak Armed Forces
2018 - 2019 Chief of SOF Branch, General Staff of the Armed Forces of the SVK
2017 - 2017 MA to SVK CHOD
2014 - 2017 SHAPE, CCOMC, TF Europe XO
2012 - 2014 Dep Dir, Training Centre Lešť
2011 - 2012 COS, 5 th SFR
2008 - 2011 NSHQ J2 Dep Dir
2008 - 2008 Chief of Special Operations Department, 5 th SFR
2004 - 2008 Chief of the staff Training Department, 5 th SFR
2001 - 2004 Commander, 2 nd SF Company, 5 th SFR
2000 - 2001 Team Leader, 1 st ODA, 4 th SF Company, 5 th SFR
1996 - 2000 Team Leader, 3 rd ODA, 4 th SF Company, 5 th SFR
1995 - 1996 Team Leader, 4 th ODA, 4 th SF Company, 5 th SFR
OPERATIONAL DEPLOYMENTS AND NATO ASSIGNMENTS:
2009/2010 ISAF SOF Senior analyst – SOFFC, AFGHANISTAN
2006 MND CS, Iraq Freedom, Chief of Intelligence Planning (G2), IRAQ
2005 - 2006 MND CS, Iraq Freedom, TOC G2 SO, IRAQ
AWARDS AND DECORATIONS:
 COMMENDATION MEDAL, 25 th Anniversary of the Establishment of the AF of the SVK
 MILITARY CROSS, 1 st Class, Gold
 COMMENDATION MEDAL, 10 th Anniversary of NATO Membership
 CHODs Badge, 3 rd Class
 COMMENDATION MEDAL, 20 th Anniversary of establishment of the AF of the SVK
 Non Article 5 NATO Medal, ISAF SOF
 SVK AF ALLEGIANCE MEDAL, 2 nd Class
 WAR VETERAN BADGE
 IRAQI FREEDOM OPERATION MEDAL, 1 st Class
 IRAQI FREEDOM OPERATION MEDAL, 2 nd Class
 SPECIAL FORCES TAB
 AIRBORNE TAB
 AIRBORNE WINGS, Senior Parachutist Badge, US
 AIRBORNE WINGS, France
 AIRBORNE WINGS, Belgium
 AIRBOURNE WINGS, SVK, 1 st Class
EFFECTIVE DATES OF PROMOTION:
28.1.2021 Brigadier General
1.8.2017 Colonel
1.1.2011 Lieutenant Colonel
1.10.2004 Major
1.9.2002 Captain
1.9.1999 First Lieutenant
1.9.1997 Second Lieutenant
1.9.1995 Officer Candidate