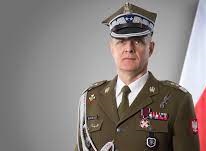 Major General PhD Piotr A. Bɫazeusz
Deputy Chief of General Staff
,
Polish Armed Forces
Poland
His military career began at Poland's Military University of Technology (WAT), where he qualified and was appointed for military studies in the United States. He graduated with honours from the US Air Force Academy (USAFA). He holds a PhD degree in Political Science.
He started his military career with assignment as an assault platoon commander with the 10-6 Airborne Brigade in Krakow. Afterwards, his assignments included NATO Specialist in the Secretariat of the State Secretary of Defense; Assistant Defense, Military, Navy, and Air Attaché in the Polish DAO in Washington DC; Senior Specialist at the J-5 Directorate at the General Staff of the Polish Armed Forces; Director of the Minister of National Defense Office; Chief of the Command Center at the Operational Command of the Polish Armed Forces; Chief of Training of the 1st Mechanized Division; Commander of the 15th Mech Brigade; Deputy MILREP at the Polish Military Representation to the NATO and EU Military Committees; Director J-5 Directorate at the General Staff of the Polish Armed Forces; Chief of Staff of the General Command of the Armed Forces; Deputy Chief of Staff for Strategic Development and Preparation at NATO SHAPE.
From 2011 until 2012, MG Błazeusz was the Commanding General of the Polish Military Contingent in the Islamic Republic of Afghanistan and Task Force White Eagle Xth Rotation Commander in Ghazni Province.

In addition, MG Błazeusz has over 500 parachute jumps and has been awarded Silver Cross of Merit, Military Cross of Merit, The Star of Afghanistan, NATO Meritorious Service Medal, NATO ISAF Non-article V Medal, US Bronze Star and Afghan Medal for Service in Security and Sovereignty of Afghanistan.