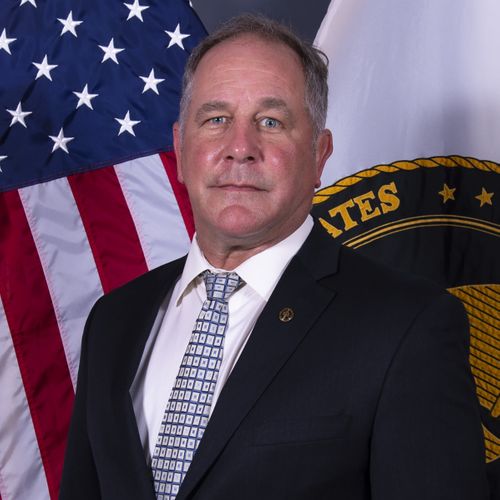 Mr. Joe TRAGAKIS
Director, J6
,
U.S. Special Operations Command
Mr. Peter J. Tragakis, a member of the Senior Executive Service, is the Director, Communications Systems and Chief Information Officer for the U.S. Special Operations Command (USSOCOM), MacDill Air Force Base, Florida.
He is responsible for developing USSOCOM's Information Technology strategy and is the capability sponsor for the Command's C4 portfolio. Mr. Tragakis is also responsible for operating and maintaining USSOCOM's global SOF Information Enterprise providing support to more than 90,000 special operations personnel.
A native of Danvers, Massachusetts, Mr. Tragakis enlisted in the US Army Reserves in 1986. He received his commission in 1990 through the Army Reserve Officer Training Corps at Bryant College in Smithfield, RI. Prior to this assignment, he was the Vice President of ARMA Global Incorporated, a wholly owned subsidiary of General Dynamics Information Technology. He has served in command and staff positions within the C4I arena throughout his career and deployed in support of OPERATION JOINT GUARD, ENDURING FREEDOM, and IRAQI FREEDOM.
EDUCATION:
1990 Bachelor of Science, Bryant College, Smithfield, Rhode Island
1990 Infantry Officer Basic Course, Fort Benning, Georgia
1992 Signal Officer Transition Course, Fort Gordon, Georgia
1997 Signal Officer Advance Course, Fort Gordon, Georgia
1998 Combined Arms Services and Staff School, Fort Leavenworth, Kansas 2003 Command and General Staff College, Fort Leavenworth, Kansas
2003 Masters in Business Administration, Webster College
ASSIGNMENTS:
May 1990 – August 1990, Instructor, Reserve Officer Training Corps Summer Camp, Fort Bragg, North Carolina
August 1990 – March 1991, Student, Infantry Officer Basic Course, Airborne School, Ranger School, Fort Benning, Georgia
April 1991 – September 1992, Rifle Platoon Leader and Company Executive Officer, Bravo Company, 5th Battalion, 21st Infantry Division, 7th Infantry Division (Light), Fort Ord, California
October 1992 – September 1993, Signal Platoon Leader and Company Executive Officer, Bravo Company, 27th Signal Battalion, 7th Infantry Division (Light), Fort Ord, California
September 1993 – September 1994, Company Executive Officer, Charlie Company, 13th Signal Battalion, 1st Cavalry Division, Fort Hood, Texas
September 1994 – January 1996, G6 Operations Officer, 1st Cavalry Division, Fort Hood, Texas
January 1996 – October 1996, Operations Officer, Training and Doctrine Command System Manager, Tactical Radios, Fort Gordon, Georgia
October 1996 – March 1997, Student, Signal Officer Advance Course, Fort Gordon, Georgia
April 1997 – August 1998, Commander, Alpha Company, 41st Signal Battalion, 1st Armored Division, Bad Kreuznach, Germany
September 1998 – July 2002, S6, 1st Battalion, 75th Ranger Regiment, Hunter Army Airfield, Savannah, Georgia
August 2002 – June 2003, Student, Command and General Staff College, Fort Leavenworth, Kansas
June 2003 – July 2004, G6, US Army Special Forces Command, Fort Bragg, North Carolina
August 2004 – July 2006, Operations Officer and Executive Officer, 112th Signal Battalion, Fort Bragg, North Carolina
July 2006 – April 2008, Regimental Signal Officer, 75th Ranger Regiment, Fort Benning, Georgia
April 2008 – September 2010, Commander, 67th Expeditionary Signal Battalion, Fort Gordon, Georgia
October 2010 – May 2012, J6, Special Operations Command Central, MacDill Air Force Base, Florida
June 2012 – February 2013, N/J6, Special Operation Joint Task Force / NATO Special Operations Component Command, Kabul, Afghanistan
March 2013 – September 2014, J6, Special Operations Command Central, MacDill Air Force Base, Florida
December 2014 – July 2016, Program Director, ARMA Global, a wholly owned subsidiary of General Dynamics Information Technology, Tampa, Florida
August 2016 – December 2021, Vice President, ARMA Global, a wholly owned subsidiary of General Dynamics Information Technology, Tampa, Florida
December 2021 – Present, J6/CIO, Headquarters, US Special Operations Command, MacDill Air Force Base, Florida
DEPLOYMENTS:
Feb – Jun 1998: Commander, A Co, 141 Signal BN, 1st Armored Division, Operation Joint Guard, Bosnia Herzegovina
Dec 2001 – Apr 2002: S6, 1st BN, 75th Ranger Regiment, Afghanistan Mar 2007 – Jul 2007: J6, Numbered Task Force, Afghanistan
Sep 2007 – Nov 2007: J6, Numbered Task Force, Iraq
Aug 2009 – Jul 2010: Commander 67th Expeditionary Signal Battalion, Iraq Jun 2012 – Feb 2013: N/J6 Special Operations Joint Task Force / NATO Special Operations Component Command, Afghanistan
MAJOR AWARDS AND DECORATIONS:
Defense Superior Service Medal
Legion of Merit Medal
Bronze Star Medal, 3d Award
Defense Meritorious Service Medal
Meritorious Service Medal, 4th Award
Army Commendation Medal, 5th Award
Joint Service Achievement Medal, 3rd Award Army Achievement Medal, 5th Award Armed Forces Expeditionary Medal Iraq Campaign Medal
Global War on Terrorism Expeditionary Medal Global War on Terrorism Service Medal Iraq Campaign Medal with Campaign Star NATO Medal
BADGES
Ranger Tab
Expert Infantry Man's Badge
Master Parachutist Badge
Air Assault Badge
EFFECTIVE DATES OF PROMOTION:
Second Lieutenant 31 May 1990
First Lieutenant 31 May 1992
Captain 01 Sep 1994
Major 01 Apr 2001
Lieutenant Colonel 01 Feb 2007
Colonel 01 May 2012