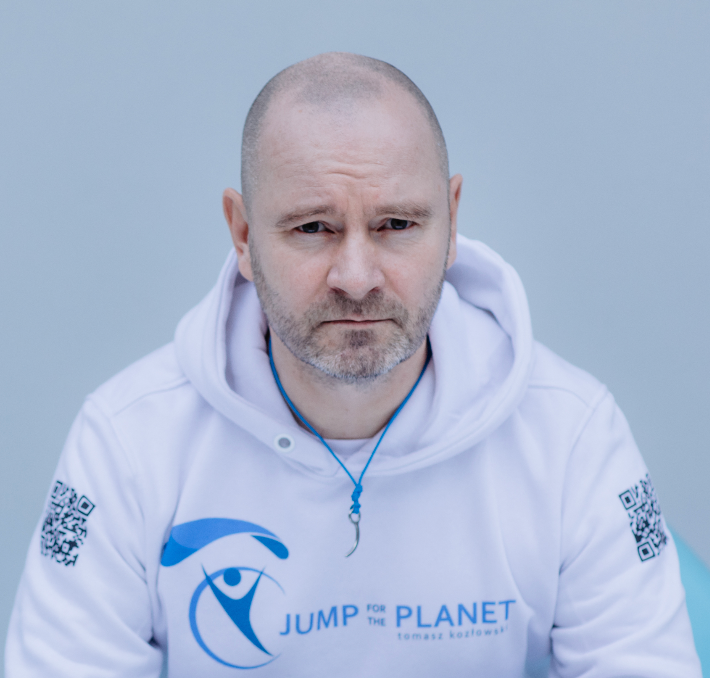 Confirmed: Mr Tomasz Kozlowski
Tomasz Kozlowski is the author of the book entitled "Historia tysiąca lęków" (literal translation: The story of a thousand fears"– in English Version). He is also the initiator of JUMP FOR THE PLANET Project, Skydiver, tandem pilot (1700+). In December 2014, he completed the highest skydive jump in Europe (35220 ft) after being raised to the stratosphere on a hot air balloon.
On June 21, 2017, he jumped 50 times in 7 hours. Each jump was dedicated to a person with a particular problem (cancer, brain tumor, etc.). By this Project he collected over 50.000 EUR for charity purposes, for which he received the award of CHARITY HERO. A year later, he completed 100 jumps in one day, raising $150.000 to finance the purchase of specialized wheelchairs for handicapped children in need of them.
He is a specialist in diagnosing teams and leadership and a specialist for crisis Intervention. He works in Poland and New Zealand in TEAM BUILDING projects. Tomasz also conducts training courses taking into account the multicultural aspects (e.g. for Officers of the NATO Multinational Corps – 2011).
From 1995-2012 he was with the Rescuer of Mountain Volunteer Search and Rescue (instructor of mountain rescue), ski instructor and an instructor with the Polish Military, police, and Special Forces. He is a certified qualified first aid rescuer. Tomasz has completed courses in the scope of critical intervention, psychological support in critical situations as well as psychological and social aid in mass traumatic events. At the request of the Ministry of the Interior and Administration, he provided psychological aid to refugees from Lebanon in July 2006.
Tomasz is also the author of publications on health psychology and issues related to the human factor in mountain accidents and has been invited as an expert to the main television stations.
Before going to New Zealand in February 2009, Tomasz was a member of a task force for psychological support of rescue services and organizations of the Department of Critical Management and Defensive Matters of the Ministry of the Interior and Administration. He was also a member of the Polish Association of Research on Traumatic Stress. Before that, he was a psychologist during the Polish Medical Mission and Vice President of the Management Board of the Association of Critical Intervention